Ishpeming, MI – December 1, 2018 – The Central Collegiate Ski Association (CCSA) will hold the NMU Open December 8-9 at the Al Quaal Recreational Area. For more information visit the CSSA website or the NMU website.
Marquette, MI – December 1, 2018 – The TV6 Christmas Craft Shows begin Friday, December 7th and go through Sunday December 9th at the Northern Michigan University Superior Dome. Showtimes are listed below.
Showtimes:
Friday, December 7, 2018, 5 p.m. to 9 p.m.
Saturday, December 8, 2018, 10 a.m. to 6 p.m.
Sunday, December 9, 2018, 11 a.m. to 4 p.m.
Admission for all TV6 Craft Shows is $2.00 for Adults, Kids 12 and under free.
Ishpeming, MI – December 1, 2018 – The Ishpeming City Council will hold their regular meeting on Wednesday, December 5th at 7:00 pm at Ishpeming City Hall.
Marquette, MI – December 1, 2018 – Northern's Honors Program was established in the fall 1998 semester with 12 students; it has since grown to 327 participants, expanding both in scope and function. Throughout its development, however, the core mission has held steady. The Honors Program provides Northern's brightest students with access to the finest teaching faculty over all four years, and to courses that offer increasing opportunities for specialization in their areas of interest.
Students embark on an interdisciplinary curriculum that enables them to earn general education credits in small, discussion-based courses. In their final two years, they begin earning Honors credit by individualizing courses within their majors.
"This process is the hallmark of the program," said David Wood, Honors Program Director and professor of English. "It encourages students to engage in one-on-one work with faculty mentors, culminating in senior capstone research or creative projects. It's thrilling to witness the amazing work that our mid-sized institution can foster for its most extraordinary students."
Recent Honors Program graduates have advanced to top medical, veterinary, PA, and law schools. Some have also earned prestigious scholarships, such as the Fulbright.
"The small class sizes and off-the-beaten path topics and writing prompts made it both interesting and a challenge to engage in studying subjects other than my passion: science," said alumna Emily Burghardt, who is pursuing a doctorate in biology. "However, the real difference that the program made in my life was the professors I had the honor to work with."
Alumna Charlotte Cialek, who plans to become a biological data scientist in the genomics industry after graduate school, said, "The content that didn't pertain to my major helped mold me in to who I am today. Some of my favorite memories include an entire semester on Don Quixote and traveling to the Shakespeare Festival in Ontario. The ideas in the Honors classes also helped open my mind about complicated topics in science."
Wood has led the Honors Program since 2010. He has been joined by Assistant Director Michael Joy, professor of Spanish, who has integrated the award-winning NMU Quiz Bowl team he advises within the Honors Program. Discussions with the Honors Student Organization have led to two other recent developments.
The "Honors Atelier" is a social and meeting space in the Olson Library, which is used for release parties for the second development: the undergraduate journal, Conspectus Borealis. Based on the Latin term for "a Northern perspective," this annual journal attracts campus-wide, faculty-approved, undergraduate academic work spanning all academic majors. Honors Program students select and edit the blind submissions.
Former NMU Trustee Mary L. Campbell established a scholarship fund that was critical to the formation of the Honors Program two decades ago. Sustained support from private donors has contributed to its growth and success. The "John and Shirley Berry Annual Scholarship" draws upon a $5 million gift to attract business and STEM-related majors, and the "Anna and Rich Lundin Summer Research Fellowships" fund five $5,000 awards to support upper-level, faculty-mentored research projects each year.
Marquette, MI – December 1, 2018 – Northern Michigan University Marketing Professor Gary Brunswick has been selected as the December 15th commencement speaker through a nomination process overseen by the ASNMU student government organization.
Brunswick said he was initially surprised that students selected him to be the commencement speaker, but is honored to accept the invitation.
"I would hope that as students leave NMU and enter the workforce, they come to realize the high quality of the education they received while at NMU, as well as the richness of the experiences they accumulated while being here," Brunswick said. "NMU is a special place for a variety of reasons, including the unique faculty, staff, students and the university's location here in the Upper Peninsula. Earning a degree from NMU is truly a mark of distinction in a number of different and meaningful ways."
Brunswick has been a full-time faculty member at NMU since 1991. He served as the director of business affairs for the College of Business from 1997 to 2005. Brunswick has received the following NMU awards: Distinguished Faculty (2005), Excellence in Teaching (2018), and MBA Program Professor of the Year (2013), College of Business Graduate Faculty (2016), among others.
He is an NMU alumnus, with a bachelor's degree in business administration and marketing and an associate degree in retailing and sales. He also holds a master's in business administration from Marquette University and a doctorate in business administration, with a specialization in marketing, from Arizona State University
ASNMU President Cody Mayer said Brunswick was selected as commencement speaker after he was nominated by several students who gave compelling narratives about how much he has impacted their time at Northern and helped them find career paths.
This is the third year that graduating students have nominated faculty members to speak at December commencement. Mayer said this has been part of a greater push for student input in the selection process.
"ASNMU now plays a much more vital role within this process," Mayer said. "We never used to select a faculty member, now it's ASNMU's job to get all those 'ducks in a row.' The ASNMU President is responsible for making the committee charge, getting the committee together and handling the nominations from students."
The December 2018 graduation ceremony will be held at 10:30 am Saturday, December 15 in the Superior Dome. It will be televised on WNMU-TV 13 and streamed online at nmu.edu/commencement.
Marquette, MI – December 1, 2018 – A chance discovery of unexpected behavioral changes in genetically modified mice prompted two Northern Michigan University researchers to embark on an interdisciplinary project. If their collaboration reveals the mice more closely replicate mental illness in humans than existing animal models, it could lead to increased understanding of human psychiatric disorders such as schizophrenia and more effective drug treatments. Erich Ottem of Biology and Adam Prus of Psychological Science received a Northern PRIME grant to support their research.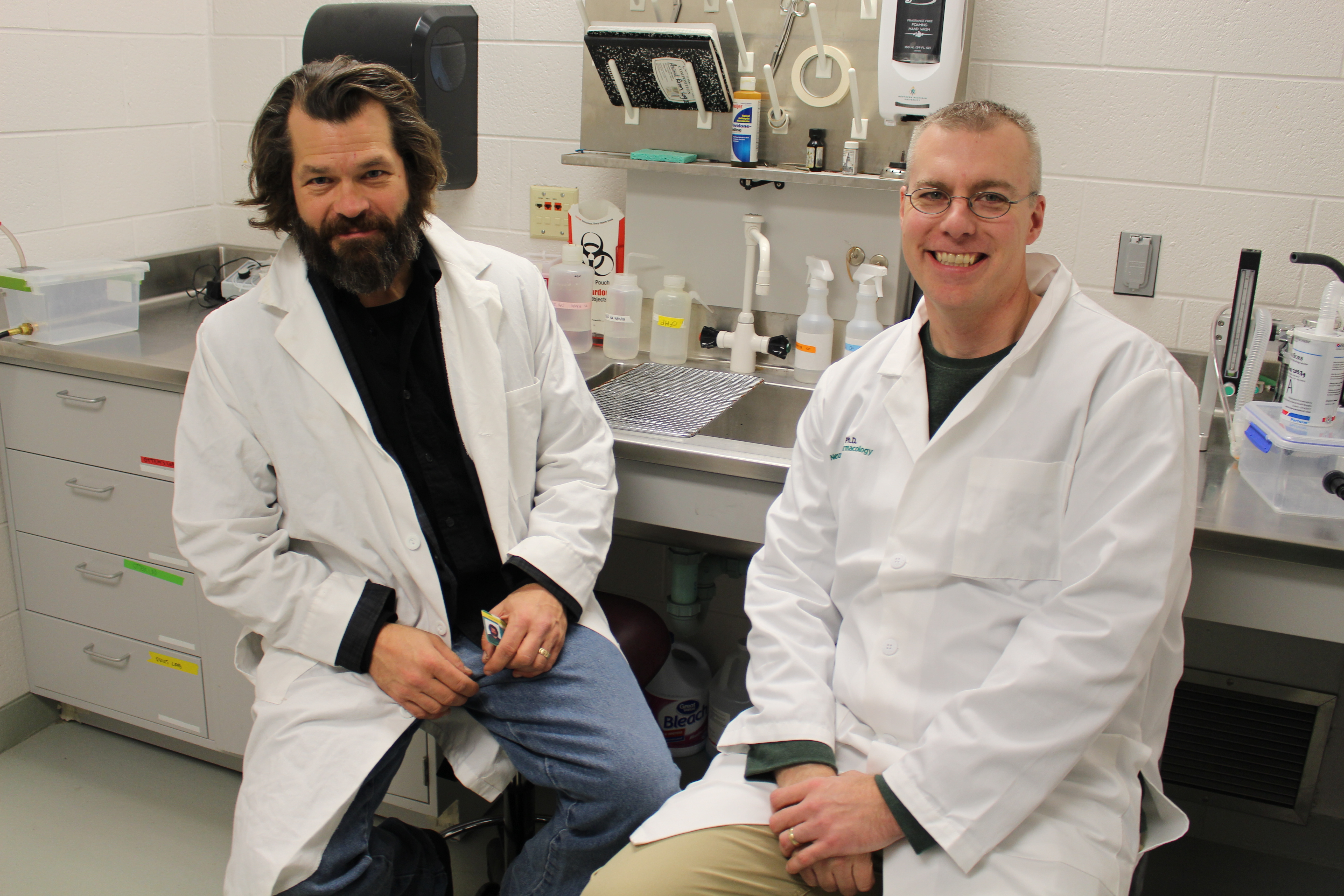 Ottem has been using transgenic mice as a model for ALS in his lab. The animals are bred so that their skeletal muscle fibers are missing a protein-coding gene titled Brain-Derived Neurotrophic Factor (BDNF). This results in a loss of neuromuscular functioning similar to those suffering from ALS. But continuing studies with the mice exposed a number of behavioral abnormalities not previously reported or expected.
"We found they were more aggressive and hyperactive, with psycho spins and flips that you don't normally see," Ottem said. "These animals don't have BDNF in their muscles, but it should be present everywhere else. There are regulatory regions upstream from BDNF that influence how and when the gene is expressed to produce the protein. Our experiments will look more closely at the cellular level to see if BDNF is altered in the mice in different brain structures that are important for learning and memory."
As a complement to Ottem's cellular research, Prus will conduct experiments in his lab to better illuminate behavioral differences in the mice. Prus has previously used mice genetically modified in a different way to study novel drug treatments for schizophrenia.
"There are a number of animal models for schizophrenia out there, but none are considered very ideal," he said. "We're always on a search for something better because the closer you come to modeling the human disorder, the closer you are to identifying a treatment that might be effective for humans. We'll assess learning, memory and activity levels with a maze and other activities. It's an intriguing mystery why things not related to the brain in these transgenic mice seem to cause differences in behavior and perhaps even how they process sensory information."
Former graduate student Ryan Brandt explored the sensory processing through his thesis research. Ottem and Prus are committed to involving undergraduate students in their research and this joint project is no exception.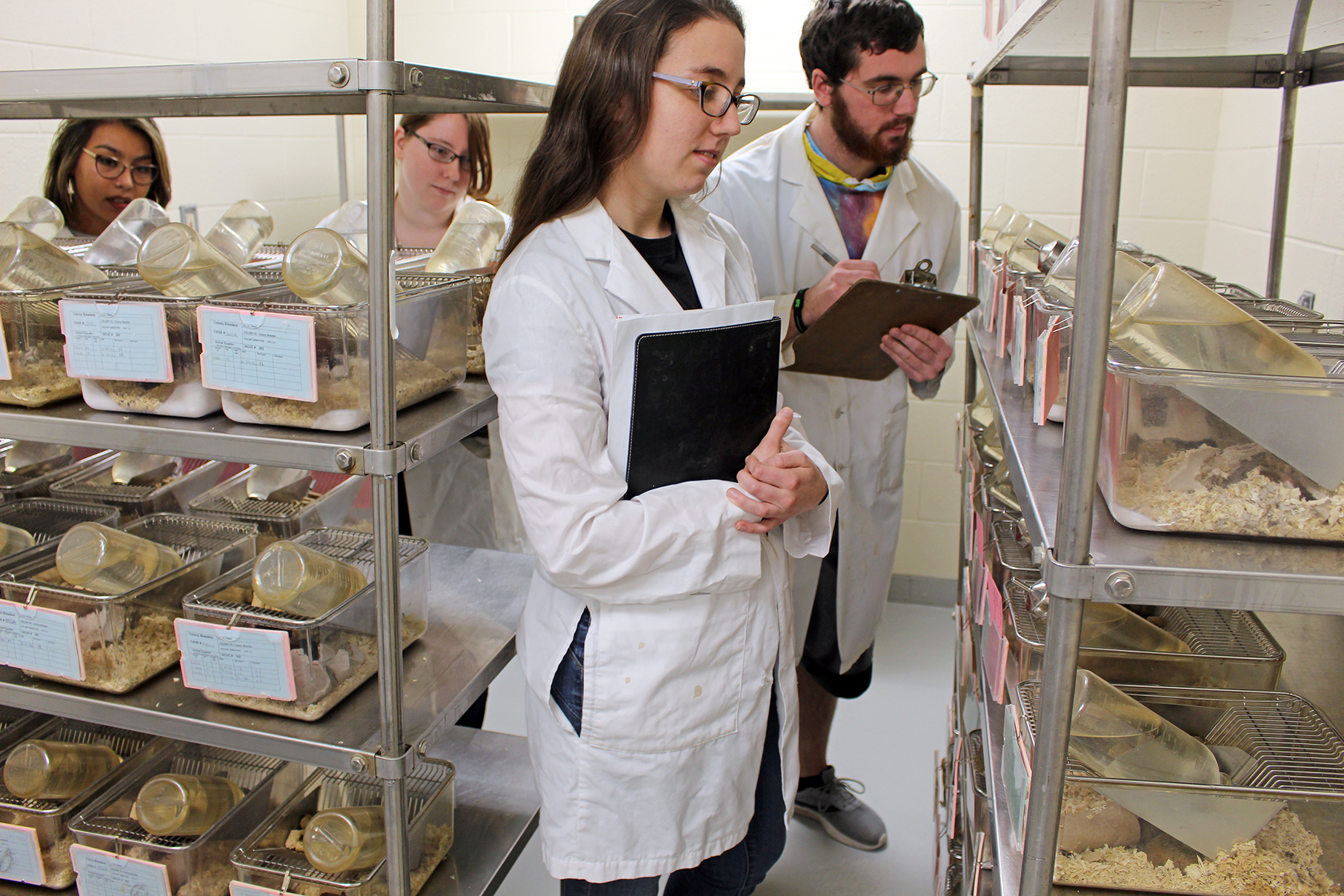 Prus said the potential discovery of a novel model for neuropsychiatric disorders would provide highly convincing preliminary findings needed to secure more substantial grants from the National Institutes of Health to fund additional research.
Marquette, MI – December 1, 2018 – A Northern Michigan University Mexican theater class will perform two plays starting at 4 pm on Tuesday, December 4, in room 2902 of the West Science building. They will be presented in Spanish, with English subtitles. Total run time for both is about 45 minutes. Admission is free and the event is open to the public.
The first play, titled "El censo" ("The Census") by Emilio Carballido, is a comedy about the relationship between the Mexican government and Mexican citizens in the 1940s. Following that will be "El viaje de los cantores" ("The Journey of the Singers") by Hugo Salcedo, an award-winning play based on a tragic story of 18 men who lost their lives trying to migrate to the United States.
Both of the plays are designed and performed by NMU students and directed by Professor Timothy Compton. The performances will be in Spanish, with English subtitles.
Marquette, MI – December 1, 2018 – Northern Michigan University's music department will host its third annual Holiday Collage Concert at 7:30 pm on Thursday, December 6, in Reynolds Recital Hall. It is free and open to the public, but donations are appreciated. The concert will feature the NMU band, choirs, orchestra and a variety of student soloists and ensembles.