Ishpeming, MI – December 1, 2018 – The Central Collegiate Ski Association (CCSA) will hold the NMU Open December 8-9 at the Al Quaal Recreational Area. For more information visit the CSSA website or the NMU website.
Marquette, MI – December 1, 2018 – The TV6 Christmas Craft Shows begin Friday, December 7th and go through Sunday December 9th at the Northern Michigan University Superior Dome. Showtimes are listed below.
Showtimes:
Friday, December 7, 2018, 5 p.m. to 9 p.m.
Saturday, December 8, 2018, 10 a.m. to 6 p.m.
Sunday, December 9, 2018, 11 a.m. to 4 p.m.
Admission for all TV6 Craft Shows is $2.00 for Adults, Kids 12 and under free.… Read the rest
Ishpeming, MI – December 1, 2018 – The Ishpeming City Council will hold their regular meeting on Wednesday, December 5th at 7:00 pm at Ishpeming City Hall.
Marquette, MI – December 1, 2018 – Northern's Honors Program was established in the fall 1998 semester with 12 students; it has since grown to 327 participants, expanding both in scope and function. Throughout its development, however, the core mission has held steady. The Honors Program provides Northern's brightest students with access to the finest teaching faculty over all four years, and to courses that offer increasing opportunities for specialization in their areas of interest.
Students embark on an interdisciplinary curriculum that enables them to earn general education credits in small, discussion-based courses. In their final two years, they begin earning Honors credit by individualizing courses within their majors.
"This process is the hallmark of the program," said David Wood, Honors Program Director and professor of English. "It encourages students to engage in one-on-one work with faculty mentors, culminating in senior capstone research or creative projects.… Read the rest
Marquette, MI – December 1, 2018 – Northern Michigan University Marketing Professor Gary Brunswick has been selected as the December 15th commencement speaker through a nomination process overseen by the ASNMU student government organization.
Brunswick said he was initially surprised that students selected him to be the commencement speaker, but is honored to accept the invitation.
"I would hope that as students leave NMU and enter the workforce, they come to realize the high quality of the education they received while at NMU, as well as the richness of the experiences they accumulated while being here," Brunswick said. "NMU is a special place for a variety of reasons, including the unique faculty, staff, students and the university's location here in the Upper Peninsula. Earning a degree from NMU is truly a mark of distinction in a number of different and meaningful ways."
Brunswick has been a full-time faculty member at NMU since 1991.… Read the rest
Marquette, MI – December 1, 2018 – A chance discovery of unexpected behavioral changes in genetically modified mice prompted two Northern Michigan University researchers to embark on an interdisciplinary project. If their collaboration reveals the mice more closely replicate mental illness in humans than existing animal models, it could lead to increased understanding of human psychiatric disorders such as schizophrenia and more effective drug treatments. Erich Ottem of Biology and Adam Prus of Psychological Science received a Northern PRIME grant to support their research.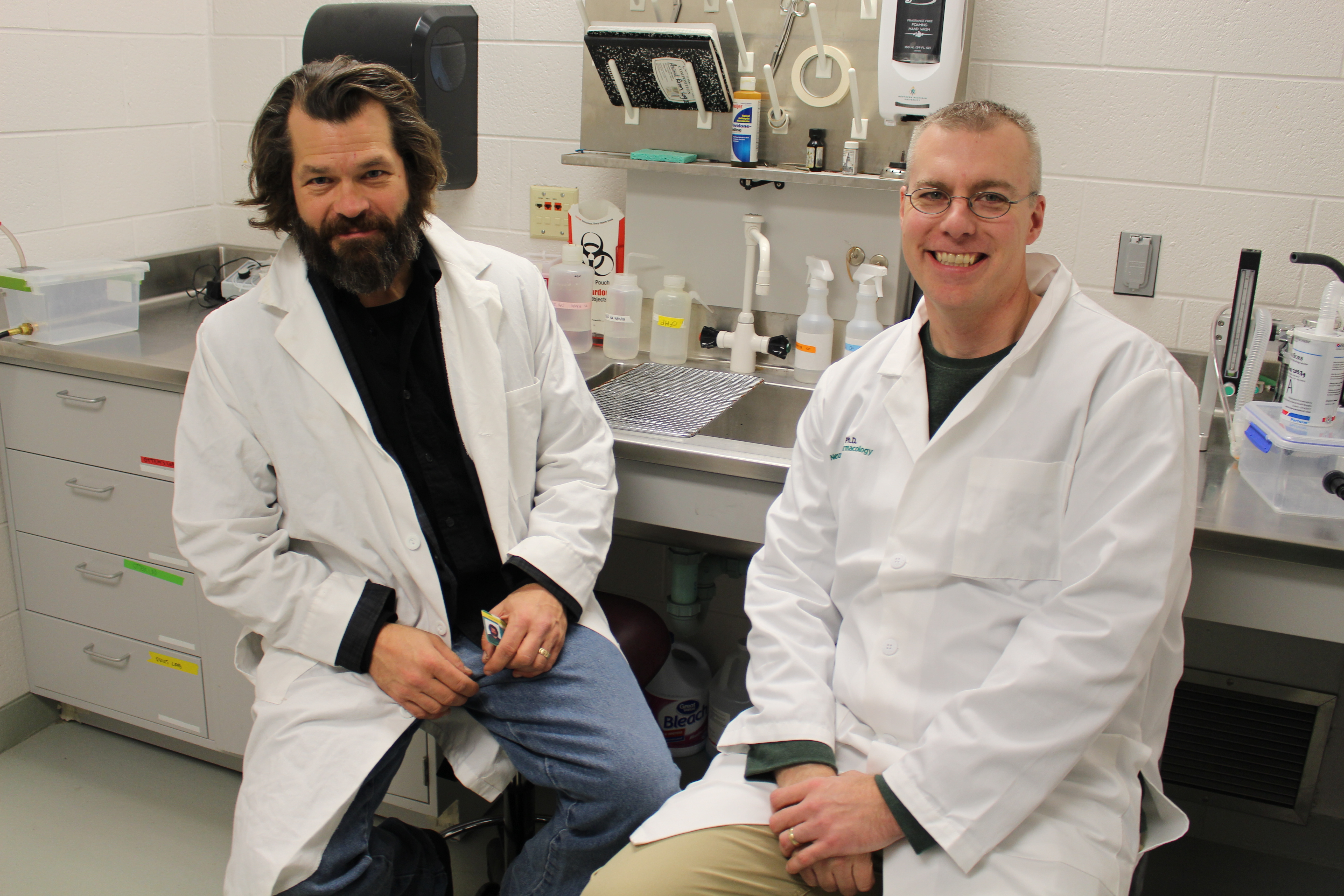 Ottem has been using transgenic mice as a model for ALS in his lab. The animals are bred so that their skeletal muscle fibers are missing a protein-coding gene titled Brain-Derived Neurotrophic Factor (BDNF). This results in a loss of neuromuscular functioning similar to those suffering from ALS. But continuing studies with the mice exposed a number of behavioral abnormalities not previously reported or expected.… Read the rest
Marquette, MI – December 1, 2018 – A Northern Michigan University Mexican theater class will perform two plays starting at 4 pm on Tuesday, December 4, in room 2902 of the West Science building. They will be presented in Spanish, with English subtitles. Total run time for both is about 45 minutes. Admission is free and the event is open to the public.
The first play, titled "El censo" ("The Census") by Emilio Carballido, is a comedy about the relationship between the Mexican government and Mexican citizens in the 1940s. Following that will be "El viaje de los cantores" ("The Journey of the Singers") by Hugo Salcedo, an award-winning play based on a tragic story of 18 men who lost their lives trying to migrate to the United States.
Both of the plays are designed and performed by NMU students and directed by Professor Timothy Compton.… Read the rest
Marquette, MI – December 1, 2018 – Northern Michigan University's music department will host its third annual Holiday Collage Concert at 7:30 pm on Thursday, December 6, in Reynolds Recital Hall. It is free and open to the public, but donations are appreciated. The concert will feature the NMU band, choirs, orchestra and a variety of student soloists and ensembles.… Read the rest