Marquette, MI – December 13, 2018 – On Thursday, November 15, the Marquette Downtown Development Authority welcomed The Crib to 401 North Third Street in Downtown Marquette. The Crib, which is the new home of Crappie Coffee, is a full service coffee shop with on-premise coffee roasting capabilities.
On Thursday, November 28, the Marquette Downtown Development Authority welcomed Northwoods Flora to Downtown Marquette. The owners, Maggie and Donald Finwall, purchased the former Garden Bouquet and added their own special touches. In addition to flower arrangements and a unique selection of houseplants, home goods, and local art, they also offer crystals, candles, oracle decks, spells, ritual oils, and wands.… Read the rest
Marquette, MI – December 6, 2018 – A Northern Michigan University Quiz Bowl team won an intercollegiate tournament held December 1st at NMU. Four squads from Northern took on two squads from Michigan Tech in the double round-robin tournament. The teams were playing for the Superior Cup, a traveling trophy that is held by the top collegiate quiz bowl team in the Upper Peninsula. The NMU A team finished with a perfect 10-0 record to win the tournament and keep the Superior Cup in Marquette.
The NMU C team finished in second place with a 6-4 record, while the NMU B team finished tied for third at 5-5.
Team A members were Dimitri Capers, Jakob Lippert, Sabrina Nelson and Eric Pitz. Lippert, a first-year student who did not play quiz bowl in high school, was the top individual scorer in the tournament.… Read the rest
Marquette, MI – December 6, 2018 – Do you live with pain that has lasted longer than 3-6 months? The Chronic Pain Self-Management program is a six week program that teaches practical skills for living with (or caring for someone with) any type of health condition that causes chronic pain, such as Fibromyalgia, Back Problems, Arthritis, Lupus.
The program focuses on self-care, learning new strategies for managing pain, and gentle exercises to help manage pain. Group meets for 2 1/2 hours once a week. The program will be held at the Lost Creek Community Center in Marquette, Wednesdays, starting January 9th from 6:00 p.m. until 8:30 p.m. There is no cost to attend. Registration is required, as space is limited. Register by calling (906) 786-4701, dial 2-1-1 or register online at www.upcap.org/events.… Read the rest
Escanaba, MI – December 4, 2018 – UPCAP's Michigan Medicare/Medicaid Assistance Program (MMAP) is offering a free seminar in the area to help folks new to Medicare understand their benefits and choices. The seminar will be held on Tuesday, December 11th from 2:00 to 4:00 pm at the UPCAP Conference Room, 2501 14th Ave. South, Escanaba.
According to Rebecca McIntyre, UPCAP's Regional MMAP Coordinator, Medicare has become much more complicated over the past several years. McIntyre states, "Medicare now includes choices on how to receive your health benefits, as well as offering prescription drug coverage. Most people have a difficult time understanding their options and have no idea how to choose the ones that are best for them."
McIntyre adds that the seminar is targeted towards folks that will be eligible for Medicare sometime within the next six months. "We will explain the basics of Medicare, and discuss what folks should be thinking about when making decisions on their Medicare choices.… Read the rest
Ishpeming, MI – December 4, 2018 – The Ishpeming City Council will hold their regular meeting on Wednesday, December 5th at 7:00 pm in the upstairs conference room at City Hall in downtown Ishpeming.… Read the rest
Marquette, MI – December 1, 2018 – Northern's Honors Program was established in the fall 1998 semester with 12 students; it has since grown to 327 participants, expanding both in scope and function. Throughout its development, however, the core mission has held steady. The Honors Program provides Northern's brightest students with access to the finest teaching faculty over all four years, and to courses that offer increasing opportunities for specialization in their areas of interest.
Students embark on an interdisciplinary curriculum that enables them to earn general education credits in small, discussion-based courses. In their final two years, they begin earning Honors credit by individualizing courses within their majors.
"This process is the hallmark of the program," said David Wood, Honors Program Director and professor of English. "It encourages students to engage in one-on-one work with faculty mentors, culminating in senior capstone research or creative projects.… Read the rest
Marquette, MI – December 1, 2018 – Northern Michigan University Marketing Professor Gary Brunswick has been selected as the December 15th commencement speaker through a nomination process overseen by the ASNMU student government organization.
Brunswick said he was initially surprised that students selected him to be the commencement speaker, but is honored to accept the invitation.
"I would hope that as students leave NMU and enter the workforce, they come to realize the high quality of the education they received while at NMU, as well as the richness of the experiences they accumulated while being here," Brunswick said. "NMU is a special place for a variety of reasons, including the unique faculty, staff, students and the university's location here in the Upper Peninsula. Earning a degree from NMU is truly a mark of distinction in a number of different and meaningful ways."
Brunswick has been a full-time faculty member at NMU since 1991.… Read the rest
Marquette, MI – December 1, 2018 – A chance discovery of unexpected behavioral changes in genetically modified mice prompted two Northern Michigan University researchers to embark on an interdisciplinary project. If their collaboration reveals the mice more closely replicate mental illness in humans than existing animal models, it could lead to increased understanding of human psychiatric disorders such as schizophrenia and more effective drug treatments. Erich Ottem of Biology and Adam Prus of Psychological Science received a Northern PRIME grant to support their research.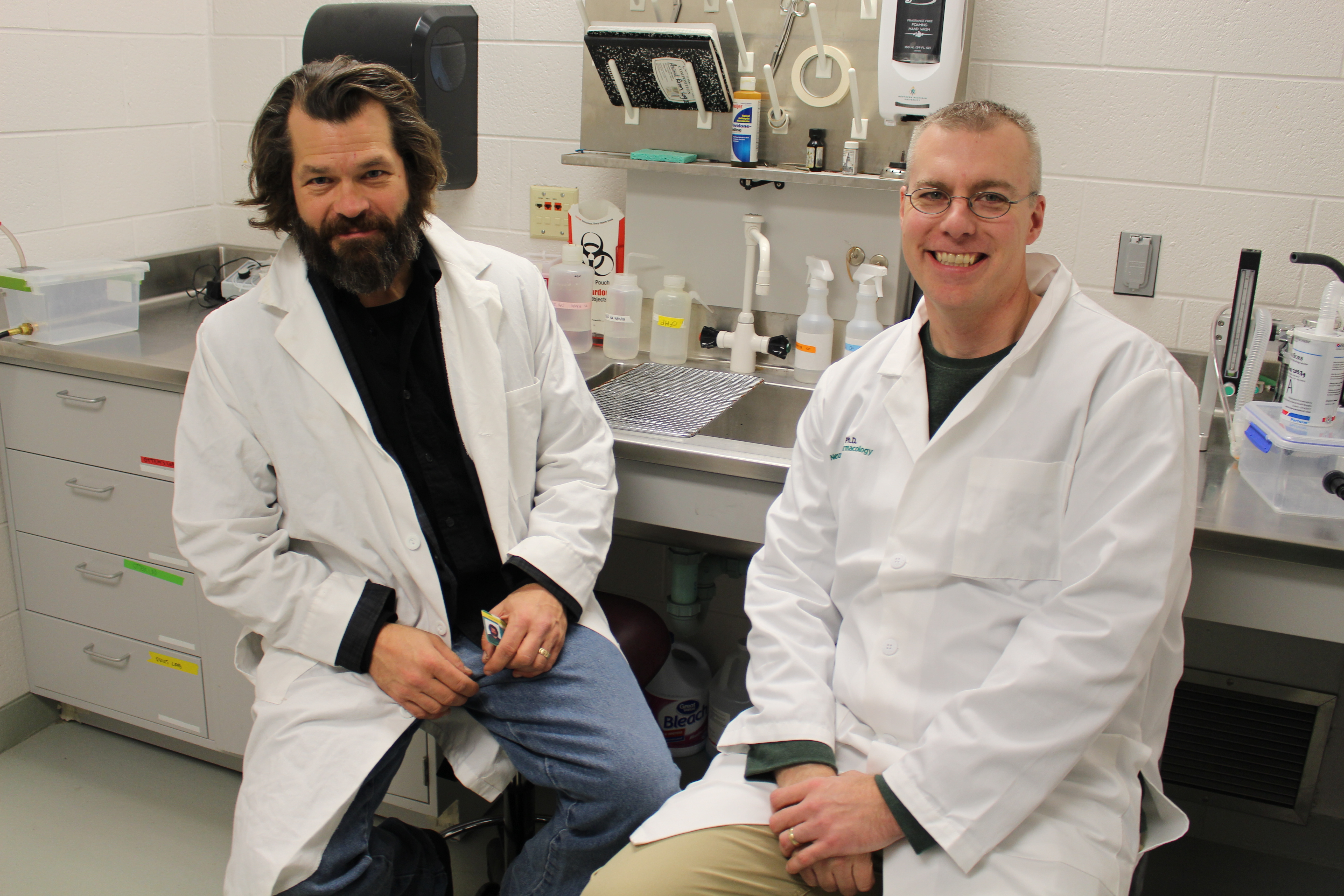 Ottem has been using transgenic mice as a model for ALS in his lab. The animals are bred so that their skeletal muscle fibers are missing a protein-coding gene titled Brain-Derived Neurotrophic Factor (BDNF). This results in a loss of neuromuscular functioning similar to those suffering from ALS. But continuing studies with the mice exposed a number of behavioral abnormalities not previously reported or expected.… Read the rest